Knut Klaßen ©️ 2022
The term Brutalism does not come from the German word brutality. It is based on the French term for raw concrete: béton brut. This is what the world-famous architect Le Corbusier, among others, called the concrete left visible on some of his defining buildings.
In our new site-specific work BRUTOLOGY, we explore the utopian and dystopian potential of brutalist architecture and infrastructure. As distinctive international architecture style after World War II, Brutalism also symbolized the reconstruction of Europe with its dreams of modernism, urban growth, and social justice.
Today, it has long been associated with a sense of disenchantment. Many people perceive its massive buildings of exposed concrete as monotonous, ugly, and unlivable.
Nowadays this style seems strangely substantial, yet its infrastructure permeates our entire society, for concrete is still the most widely used building material. In the age of deconstruction, nonlinearity and digitalization could Brutalism, with its promise of security, even represent a sort of final spirituality, a "Brutology"?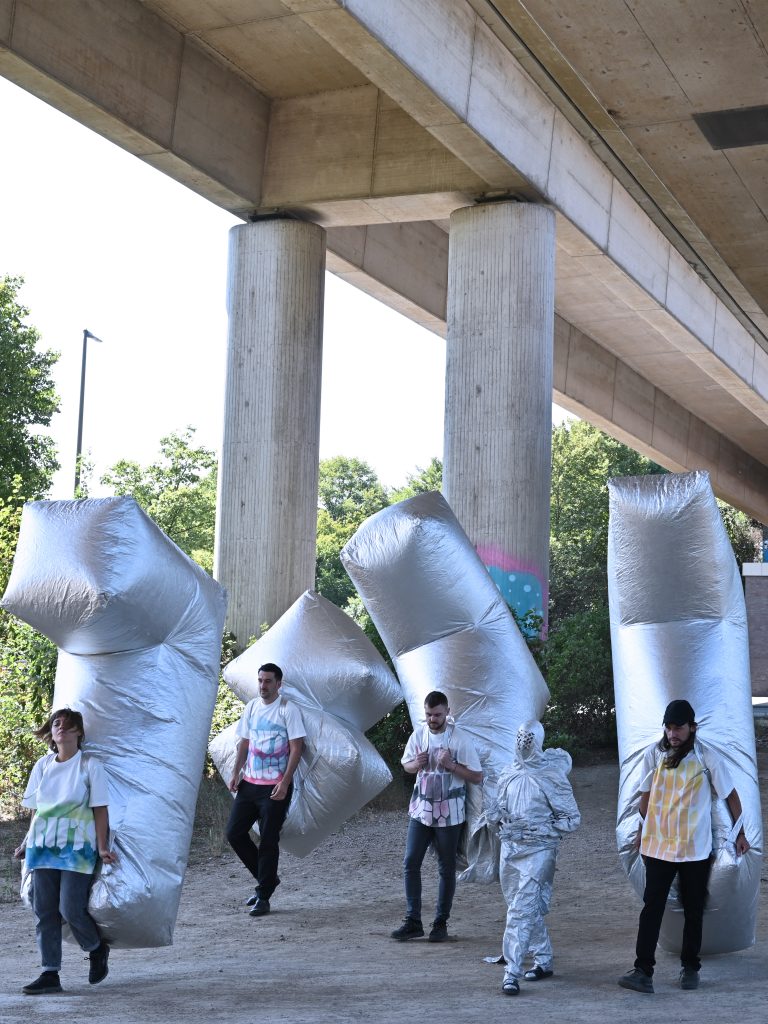 Knut Klaßen ©️ 2022
"BRUTOLOGY. The built, the unbuilt and the unbuildable" deals with the intersection of Brutalist infrastructures and their underlying effect on our bodies and society. How does concrete shape our consciousness? In the crossover between concert and rave, we will embark on a quest for traces.
On the 02.09 and 03.09.2022 at 20h     
Skatepark under Mallinckrodtbrücke, Dortmund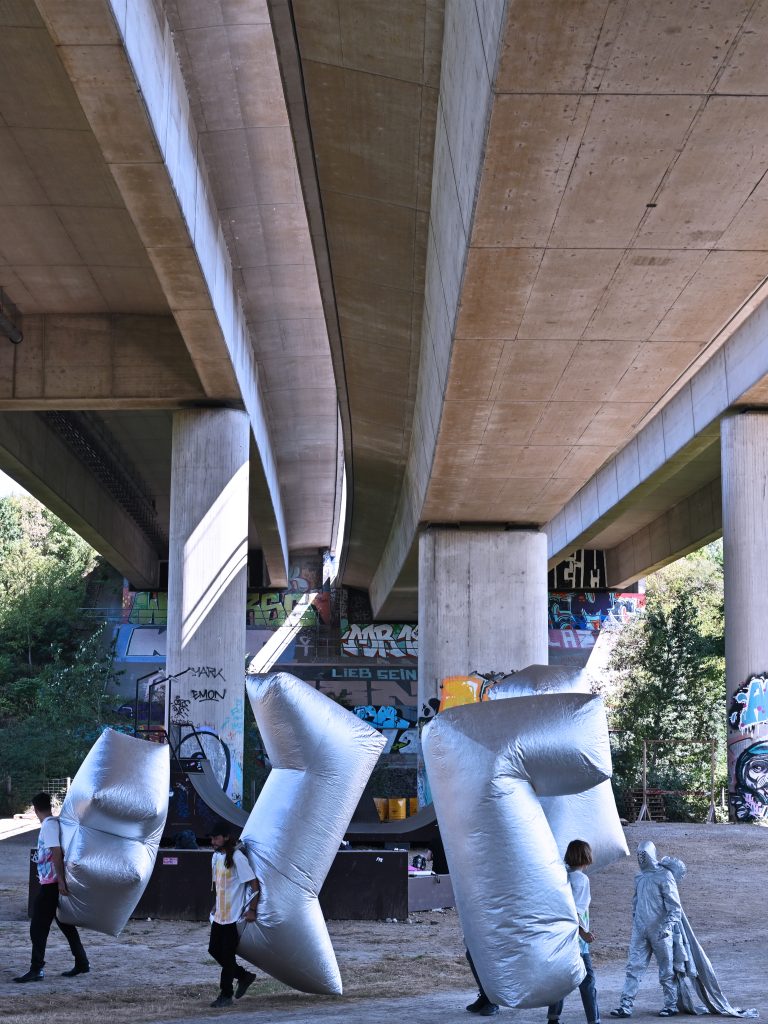 Knut Klaßen ©️ 2022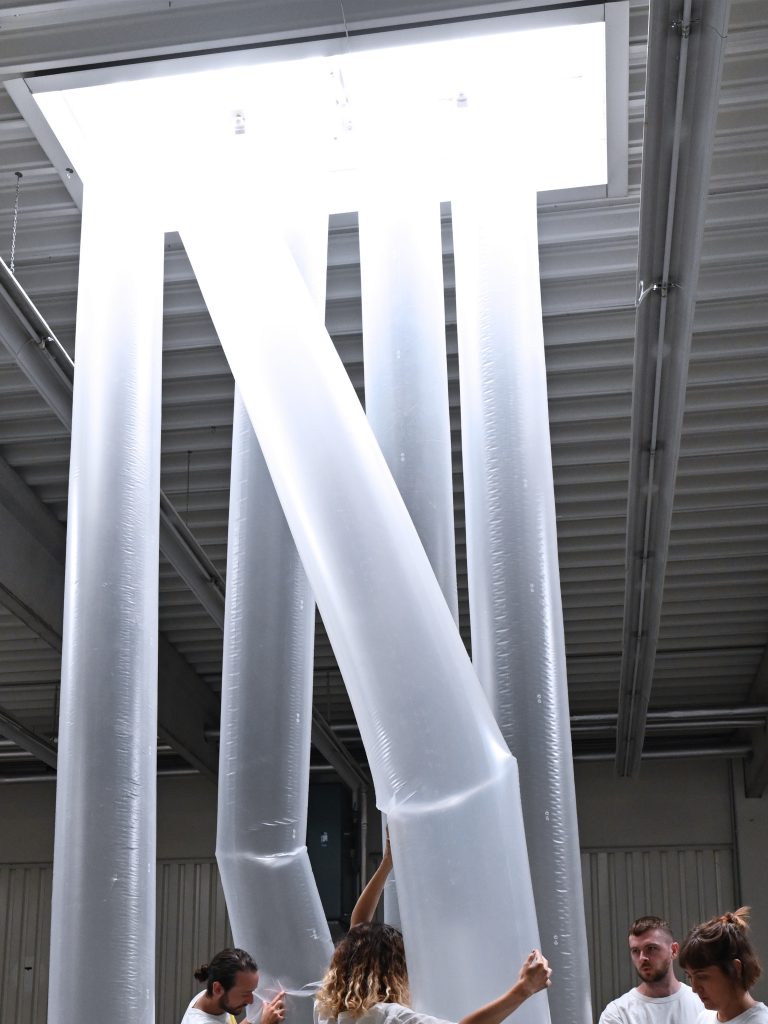 Knut Klaßen ©️ 2022
"BRUTOLOGY. A sacred space is never space is never empty" creates a sort of Brutalist church, in which matter is sacrificed and where, on a foundation of concrete, we'll glorify the spiritual ruins of Brutalist utopia.
On the 28.09, 30.09 and 01.10.2022 at 20h 
ES 365 Erkrather Str 365, Düsseldorf
Performance und Regie: Montserrat Gardó Castillo und Petr Hastik. Performance: Juan Felipe Amaya González, Martin Kratochvíl, Mariona Naudin. Musik: Nicolás Kretz. Künstlerische Unterstützung / Setdesign: Knut Klaßen. Kostüme: Marc Aschenbrenner, Eva Carbó. Licht-, Ton- und Videodesign: Jörn Nettingsmeier. Dramaturgie: Annette Müller. Produktionsleitung: Karolina Maria Knoll.
Eine Produktion von Montserrat Gardó Castillo & Petr Hastik in Koproduktion mit FFT Düsseldorf, gefördert durch die Kunststiftung NRW, das NRW Landesbüro Freie Darstellende Künste, das Ministerium für Kultur und Wissenschaft des Landes NRW, die Landeshauptstadt Düsseldorf und Neustart Kultur – NPN Stepping Out.
In Kooperation mit dem Emscherkunstweg, eine Kooperation zwischen Urbane Künste Ruhr, Emschergenossenschaft und Regionalverband Ruhr unter der Schirmherrschaft von Ina Brandes, Ministerin für Kultur und Wissenschaft des Landes Nordrhein-Westfalen, gefördert durch das Ministerium für Kultur und Wissenschaft des Landes Nordrhein-Westfalen.